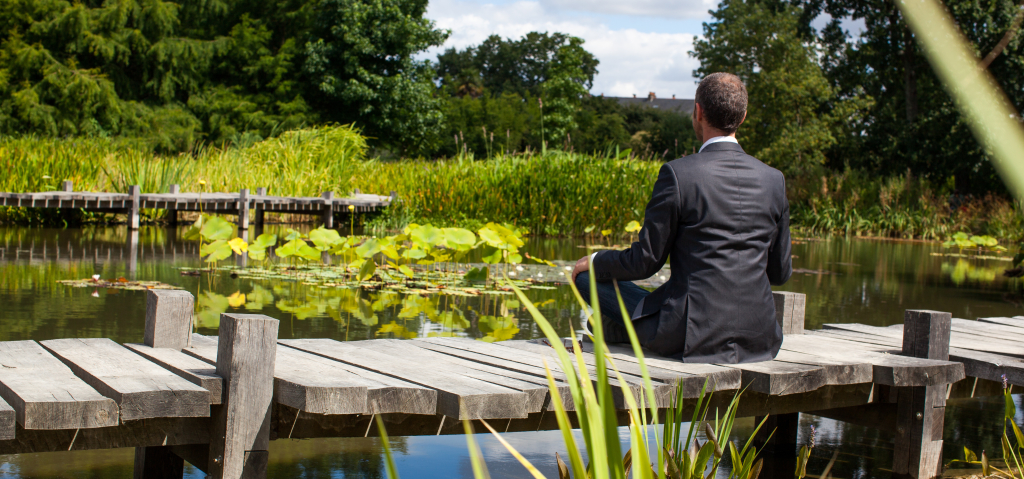 Are You Ready To Take Your Company To The Next Level?  
Are you an employer seeking to improve employee wellness and company morale? Do you want to lower employee stress and increase focus and productivity? Perhaps you've heard about the success companies have found offering mindfulness meditation and yoga to employees, and you want to achieve similar increased performance within your company. Or, maybe you really care about the wellbeing of your employees and want to provide them with an office environment that they love, rave about and benefit from. Essentially, are you looking for an effective, proven way to help your employees feel less stressed, more focused and happier at work and beyond?
Mindfulness Training In The Workplace Is Gaining Momentum
Over the last few years, the practice of employing mindfulness to decrease stress, improve focus, reach goals and live a happier life has been getting a lot of attention. With origins in the Buddhist tradition, mindfulness has long been used to deepen spiritual practice. But, a wave of recent popularity has moved mindfulness into the secular space, and both individuals and companies all over the world are now utilizing the ancient practice to achieve modern day goals.
Stress costs American companies between $200 billion and $300 billion in lost productivity each year. Research shows that mindfulness can not only decrease stress, but also improve sleep and boost empathy, creativity and focus. These findings have prompted companies, including innovative global leaders like Google, Aetna, GE, Ford Motors and American Express, to provide their employees with mindfulness training. And, the investment pays off. Employees utilizing their companies' mindfulness training are reporting stress reduction, improved sleep and increased productivity each week. Happier, well-rested and more focused employees aren't the only benefit. Implementing wellness programs is making these companies even wealthier. In fact, data provided by Aetna shows that the employees utilizing provided mindfulness training and onsite yoga classes are gaining the company $3,000 per employee a year.
Given the many benefits of mindfulness, it's no surprise that more and more companies—both large and small—are offering onsite mindfulness training and instruction to their employees. In addition to decreasing stress and improving sleep and focus, mindfulness helps people become less reactionary and more responsive; engage in thoughtful, effective communication; mitigate distractions like social media use; set and achieve both personal and professional goals; and feel balanced, centered and grounded. It has also been shown to improve immune functioning, which leads to less sick days and happier, healthier people in the workplace.
With mindfulness programs springing up all over the country, it can be challenging to know which program to choose and/or how to implement mindfulness into your workplace environment, especially if your budget can't support a costly program. The good news is that you don't have to spend a fortune or dive into a full-scale, employee-based mindfulness program. I can develop a program that works for your company and help you take employee performance, productivity and wellbeing to the next level.
A Mindfulness Program Designed For Your Needs
Mindfulness takes a short time to learn, but a long time to master. Like getting good at anything, the practice requires, well, practice. But, it is doable. And, we're now finally seeing studies and statistics that support what practitioners of this ancient practice have known for centuries: mindfulness works.
I understand that every company is unique, which is why I will work with you and/or your HR department to custom design a package that best supports and addresses your company's needs, values, structure, goals and budget. Whether you're looking for just one presentation, a series of workshops or ongoing coaching, I use a system that focuses on teaching your employees how to fit mindfulness into their everyday lives, helping them increase focus and productivity, reach goals and enjoy themselves in the process.
Whether you're looking for workshops, mindful leadership coaching or a simple, effective presentation on mindfulness, its benefits and how to practice it, I can help. I've been providing mindfulness-based psychotherapy and coaching for more than a decade and have helped multiple companies develop mindfulness-based coaching platforms. I've also facilitated a variety of workshops, presentations and professional trainings on how to implement the practice into both personal lives and the professional sphere to identify, foster and achieve goals.
In workshops, coaching sessions or a one-time presentation, your employees can learn:
How to practice mindfulness and apply it to a wide variety of situations
How to set, foster and achieve goals
How to train the mind to stay focused, alert and present
How to notice opportunities to thoughtfully respond rather than react to thoughts, conflicts, stresses and challenging emotions
How to use the practice to engage in intentional, meaningful communication
How to practice mindful leadership
I know both personally and professionally how effective this practice can be. It truly can take productivity and overall wellbeing to a whole new level. Mindfulness can be used to think creatively in sales meetings. It can improve clinical judgment and company moral. It can help your employees communicate, create and collaborate more effectively. And, it can not only prevent burnout and lead to less sick days, but also help you foster an inspiring, exciting work environment for your whole team.
You may have more questions or concerns about mindfulness in the workplace…
I've heard that mindfulness training is expensive, needs to be ongoing and can take a long time.
Mindfulness is easy to learn, and can be taught in a variety of ways and formats. If cost and time are concerns, I can develop a single presentation or a short series of workshops that can give you and your employees an idea of what mindfulness is all about and how to utilize the practice. At a company retreat or during a lunchtime in-service meeting, I can provide accessible, easy to implement mindfulness-based strategies that can improve productivity, creativity, communication and employee wellness. By beginning with something like a general workshop, you can be on the cutting edge of creating a new kind of company culture, show your employees that they are valued and decide if the results are worth furthering your investment. Then, we can build on the initial presentation and/or workshops.
Our company is outside of Seattle. Can you still help?
I value flexibility and enjoy working with companies all over the country. If you're based outside of the Seattle area, I can fly into your city to conduct a presentation/workshops, arrange virtual meetings with you or devise a plan composed of both.
We're in a fast-paced, demanding industry. I'm worried that bringing mindfulness into this environment will make my employees lose their edge.  
Rather than removing that essential edge, a mindfulness practice can actually enhance it. People spend hours every day getting lost in looping, engrained, energy-sucking thoughts, which get in the way alertness, focus and productivity. Through using mindfulness, your employees can learn how to stay present in the moment and gain better control over their minds. They can use the practice to concentrate fully on a specific client, task or project. As an added bonus, studies show that mindfulness promotes better sleep, decreases stress and improves heath. Finally, practiced over time, mindfulness can become the brain's default. It can literally change the neural pathways in the brain, leading to increased functioning, happiness and focus in all aspects of your employees' lives.
You Can Foster A Creative, Productive, Balanced Workplace
I invite you to email me your company's specific needs and goals; however, due to the high volume of inquiries I receive for this type of coaching and a full practice in Seattle, I am unable to meet all requests.  Although if timing and topic are a good fit for us both,  I'm happy to answer questions you have about mindfulness in the workplace, discuss how to best incorporate mindfulness training and practice into your company's culture and determine the most efficient way for us to work together.